What are Swirl Marks ?
Swirl marks are scratches in the finish. Sometimes these scratches are microscopic in size and only visible in bright light, like direct sunlight or very intense artificial lights. Other swirl marks are very deep and are easily visible in just about any lighting condition. Swirl marks can generally be placed in two categories, which describes the origin of the swirls.
Cobweb-effect:
also called spider web scratches, car wash scratches, towel scratches etc.Cobweb-effect is the term used to describe the visual appearance of the thousands, and even hundreds of thousands of tiny scratches inflicted into your car's finish through normal, everyday wear and tear.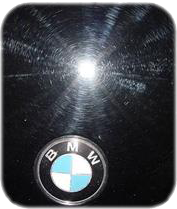 Working from the bottom up potentially dragging dirt that has accumulated on the bottom parts of the car to the cleaner upper section of the car.