Why Steam :

a) Steam washing can remove dirt from the crevices to thoroughly clean your car which is not possible with a conventional wash system. Steam washing can remove the stubborn contaminants very easily without scratching the paint surface, leaving a slick and smooth finish.

b) Steam washing saves a lot of water. Steam uses as little as 5 liters of water to thoroughly wash a car. A regular carwash would use at least 60 to 70 liters of water to do the same. And looking at the water problem these days, steam washing is a boon to the industry.

c) No waste water runoffs. Since steam is 5% moisture, we wont be making a muddy mess at your door step unlike some other car washers who clean your car but make your house dirty.

d) No corrosion in long run.The water being used in the steamer is absolutely soft and clean as only clean water can be used in it. Hence no corrosion is caused in the long run, unlike with hard water.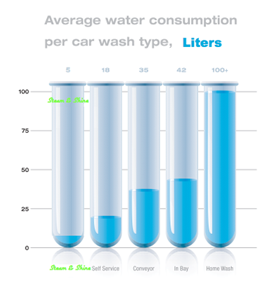 Why Shine :

More than shine, the surface of your vehicle reflects your personality. A dirty, dull, oxidized car isn't going to leave a very great impression, and sometimes it might even be an eyesore to look at. Whereas a sparkling car,regardless of its color and size, will always look extremely impressive and speaks volumes about your personality.

We at Steam & Shine, make sure that your car never looks dull, instead we ensure that it always looks spick & span. We remove bonded contaminants, blemishes, scratches, swirl marks and oxidation so that your vehicles surface is as smooth as glass. To protect this smooth as glass finish we use very high quality waxes and paint sealants which are extremely durable in our climatic conditions.


We use only top quality premium products from Meguiars.
Meguiars is an American brand,more than a century old and is dedicated to making waxes and polishes for vehicles. No one understands the car detailing industry better than them. We feel honored to announce that we are the official Meguiars detailers in New Delhi